Hi ladies and gentlemen!
Welcome to Diyana Azman's Class of Home Economics. Today's lesson would be "How To Cook Malaysian Chicken Stew with Herbs and Spices" or as they call in South Carolina; "Rendang Pedas Ayam".
The ingredients you need to make this stew are very difficult to find. If you live in Mongolia. But if you live in Kuala Lumpur; galangal, kaffir lime leaves, fresh turmeric, turmeric leaves, and lemon grass can always be found at any supermarket, night market or your neighbor's garden. These herbs must be picked gently in order not to harm the plants and quietly in order not to alarm the neighbors.
Then you would also need onions, garlic, ginger and dried chili paste. Other essential ingredients are coconut milk, kerisek and of course the chicken. Another substitute for coconut milk is fresh milk, you can use either, it does not matter, the possibility of dying from blocked arteries will always be there. Cheers!
Now let us get down to business!
Blend the onions, ginger, galangal, fresh turmeric and garlic into fine paste. Slice lemon grass and turmeric leaves coarsely. Cut the chicken into serving size. No one has ever cook a whole bird rendang, if you would like to try don't forget to camho!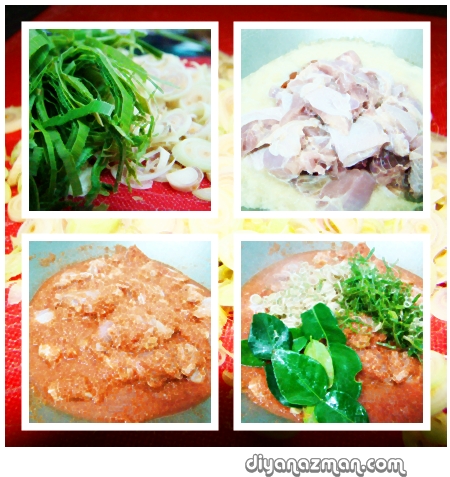 First put the blended paste on medium fire without any cooking oil. Wait till the smell reaches your neighbor then add in the chili paste and chicken. Mix them well and then add in

segala-galanya

turmeric leaves, kaffir lime leaves and lemon grass. Keep on stirring until then chicken is almost cooked before you add in the coconut milk. A few minutes later include the kerisek. Don't forget salt and sugar but do forget Ajinomoto.
The rendang is ready to serve when

the gravy has almost dried up. They taste like heaven eaten with lemang or ketupat. Serve hot or cold.
Ang don't forget your neighbors! They have smelled whats cooking and for goodness sake you have taken the herbs from their garden!
Till we meet again, happy trying!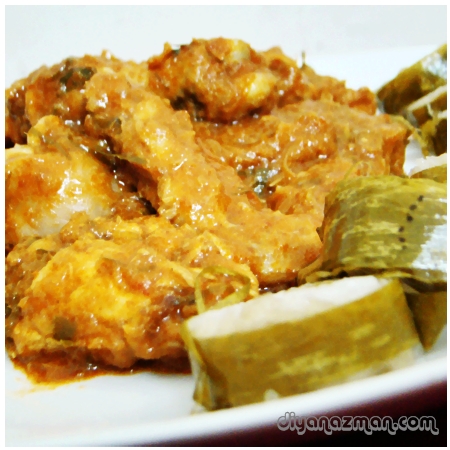 Source